"Black Horse and the Cherry Tree"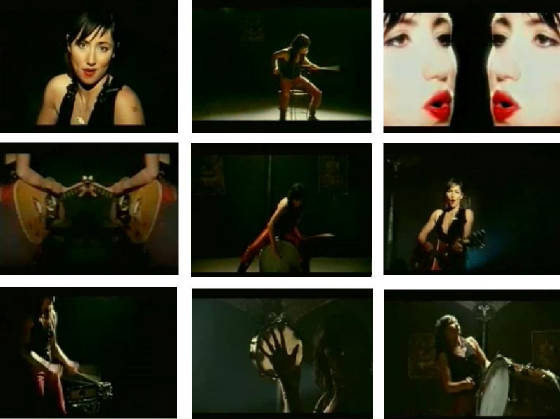 "love the bit were she's on that mahoosive drum" - throwmearope
"A simple video, but works well as theres more focus on the song." - truebluejen
"Red leather pants...say no more! Ooooh and i want that huuuuge drum so i can randomly bang it when i'm feeling a bit stressed." - jaffacakes
"I saw this video probably towards the end of 2004/beginning of 2005 and remember thinking, It's about time someone like KT came into the industry who can play their own instruments....and this video shows that perfectly" - megs123
"Simple and catchy, I love the video for representing so well one of KT's strength: she can play many instruments and therefore can manage a whole song all by herself, and, man! she DOES HAVE THE RYTHM UNDER THE SKIN!" - Aurelia
"Love the way it shows off our one woman band!" - Eimear
"Cool vid with an ace drum and lots of sassyness! Very different to the other vid's that she's done since I always think. I always think that it's not KT as we know her in this vid and I just don't know what it is that makes me think that. Unless it's just that there's not really a 'story' being portrayed? Like it all the same though." - NatalieHoughton

"Other Side of the World"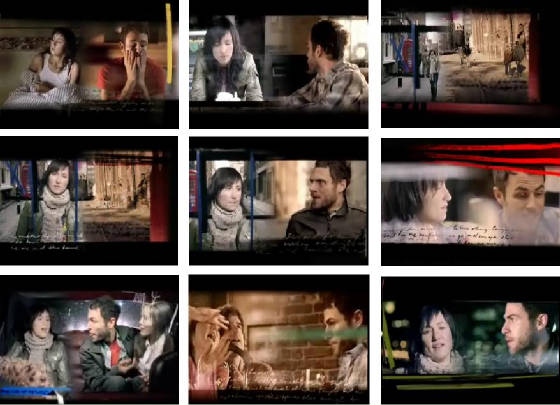 "Love this vid, though I always think there's a kind of sadness about it. Love it though, always makes me feel something inside like the longing for the couple (which aren't really a couple obviously) to be together. Cool scenes in it. Like the fact that there is a story being portrayed in it. I always think it's a nice contrast to the SIS and BHATCT vid's which move so fast." - NatalieHoughton
"My favourite video of KT's, to go with one of my favourite songs!! The video is just so well made, the split screen is ace and really makes the video!! Also love the way KT sings over the top" - megs123
"Beautiful video! Love it to bits!! Such a simple concept, fits perfectly with the song... and love the singing over it" - Eimear
"How long distance relationship can separate two people (and a screen) is well represented. Love the KT's singing over the song." - Aurelia
"The split screen idea totally compliments the song aaaaand, the chap in it is a bit of alright too." - jaffacakes
"That's one of my favourite! So much emotions and so much .... KT !
I love the mirror effect. It's reflect feeling that you can get when you're on this kind of relationship better." - Camille
"Love this one. The split screen was a fantastic idea. The karaoke is my favourite part, because everyone looks like they are having a great time." - truebluejen
"Lovvvvvvve it. Think KT looks really different in it though. But yeah the split screen thing and having her kind of sing live over the track is brilliant." - Nat
"This video is very sweet...It has a kind of special charm about it. Very nicely done." - Becs

"Suddenly I See"
"Great, love it. Just think its quite original." - Nat
"think this is one of my favourites, it just seems really simple but really well done, and love the thing were there's two of her and one walks in" - throwmearope"
"Love this video, fits the song perfectly, and the two KT's bits are awesome" - megs123
"Another simple video which lets the song shine. And we get two KT's instead of one!" - truebluejen
"What a WONDERUL video for a WONDERFUL song" - Camille
"Get a "Good KT versus Evil KT" vibe from this one, like the lighting, the way her face lights up as she sings "You can see she's a beautiful girl" aaah..." - jaffacakes
"it's good to see all the band!!" - Aurelia
"Very coooool vid. Makes a nice change to the other vid's to have the whole band on it too. Like the 2 KT's, it's cool, though did take me a few watches to properly 'get it'. Maybe that's just me that's slow." - NatalieHoughton

"Under The Weather"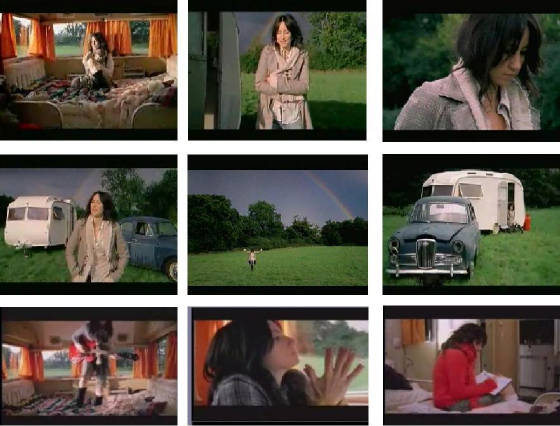 "I really like this video, nice and simple, fits the feel of the song perfectly. I want a caravan now ha" - megs123
"Love the naturalness with this vid. Think it's very 'KT' if you get what I mean. It's cute and very watchable. Not as much moving about in this vid as with some of the other Tunstall vids. Love the rainbow, the old car, the personality of KT in this vid (even if it is a sort of character she's playing) and the stipped down-ness." - NatalieHoughton
"Lovely video. So simple but maybe my favourite. Very cute, and looks like a lot of fun (especially the windy bit)." - Eimear
"Reminds me of spending 6 weeks in a camper van in New Zealand. Makes me want to be there whenever i see this vid. Oh, and great wooly red cardi thing. Probably my fave vid." - jaffacakes
"Great outfits! KT looks so relaxed in this video. I love how the rainbow appears in the sky." - truebluejen
"Makes me want a cup of tea every time I see it
" - Nat
"I do love this video; it's incredibly sweet, especially with the wind in the caravan, and KT and her scarf." - Becs

"Another Place To Fall"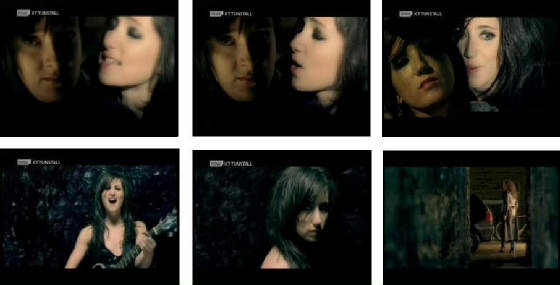 "Its awfully dark. Not my favourite but I still really like it." - Nat
"Not what I expected at all, but I love it. KT looks her best in this video. Its dark and eerie, and fits in with the song perfectly." - truebluejen
"A great video, matches to the song down to a T!! KT looks great in it too and of course Donna of Amplifico is in it....so even more cooler" - megs123
"Got a very dark and grimy feel to it. Very sleek hair...should look into endorsing shampoo." - jaffacakes
"woooo... another level of sexy attitude... Mysterious and stylish, luv it!" - Aurelia
"Great video! The concept is genius and couldn't imagine anything better for this song. And KT looks fantastic too!!" - Eimear
"Fabulous vid, although I do agree that it is a little dark at times, but think that is intentional. Love the fact that Donna is in it (not that I am biased in any way - love you Amplifico!) and think we see a different personality for KT in this vid, which makes a nice comparison to the nicey-niciness of such as OSOTW. I think this vid is quite intriguing, which makes you want to watch it over and over." - NatalieHoughton
"Probably my favourite video; I love the kind of dark side to KT here – it's different from anything else she's done, and I think it's a style that works well." - Becs

"Favourite part of a KT video...."
"I like the the part in the OSOTW video where KT and Arnie are singing together and KT is dancing, makes me laugh everytime" -

JellyBaby199306

"I like it in the APTF one where she does the 'but first you must take off your mask' bit with the hand actions...love the expression her face" - jacsgud
"The bit in OSOTW where KT sings "then the fire fades away, most of every day" and smiles dreamily. It's lovely and always makes me smile." - Greig
"The bit when the good looking chap in the OSOTW vid punches the screen.
Ooooh and when she's walloping the big drum in the BHATCT vid, now that is cool." - jaffacakes
"The windy bit in UTW" - Eimear
"got to be the lil nods in the BHATCT vid" - djtrev
"I love the two KT's in Suddenly I See!! Also, of course, KT and Arnie singing away in Other Side of the World" - megs123