Lucky Luke, Arnie, Kenny and Sam, or should I say The Salty Dog Four? ;)
How you doing lads?? I think you guys are ace, each of you bring such good qualities to the band!! Love watching you live, all of you get so into it!!
Luke, I have you at the top of my favourite drummers list!! It's a complete joy to watch you play the drums, you bloody rock!!
Arnie, what would we do and where would the world be without your red tank top!! And who
else can glide smoothly across that stage like you??....no one!!
Sam, ace guitarist, you bring such an amazing sound to the band!!
And finally, Kenny....you are a dude!! No one plays the dustbin lid quite like you, no
one plays the trumpet better and no one shakes their hair better haha!!
Keep rockin' lads!! Congratulations on sharing a fantastic year with KT!!
Love Megsxxxx
"Lucky Luke, Arnie, Sam, Kenny and KT,
You are all fabulous!! I love you all!
KT performing solo with the wee pedal is great and inspiring and a performance in itself but with you lot, it's really something special! What a talented, lovely, funny and crazy bunch you are. I love the chemistry between KT and the band, especially when performing live. You all seem to have such a cracking time on stage (dread to think what goes on on that tour bus, what with Arnie's naked yoga and all that!) Memorable moments include things like when Sam stood on KT's guitar lead at Liverpool January 2006 and it made her get yanked back much to her surprise, and when Arnie and KT rock out together with the cute smiles, the little looks that Luke gives to KT when he's bashing those drums and his permeanant ability to stay smiling and happy (best job in the world he once said when I asked him about this! Awwww!), and the way sometimes they all try to put off poor Kenny when he's blowing that trumpet (from my brass instrument playing days I know how hard it is to not laugh but he succeeds!).
Keep up the great work guys! You make me very happy the lot of you!
Lotsa love,
Natalie Houghton xxxxx"
Hey Luke!
From one Norwich folk to another - HELLO!!!
Sprowston is still rocking!!! Love listening to ya playing - you are fookin' awesome. It was FAB when you came to Norwich! I was the one front row hobbling on crutches sporting a VERY attractive leg brace!
Keep up the fab work
Anna xxx.
"Lads, your hair is cooler than BRMC and your musical talent outsheeeeeiiiiiines Oasis - I cannot give higher praise than that!! Very Happy" (Stevie)
Alright lads!

I've only had the pleasure of meeting a few of you, Arnie and Kenny....on that cold Liverpool gig night. Cheers so much for coming out to see us, was great chatting to you guys!

Arnie, thanks for trying to keep us warm, you gentleman, you. Loving the waistcoats too!

Kenny, cheers for the tambourine, well half of it....it's a great thing to take home from a gig and was really nice of you to offer it to us from the bag of mystery. It's got some good dents on it; you must really go for it with the dustbin lid, especially for it to brake.

Sam, I'm still holding' out to meet you, although I did manage to get a cheeky smile from you at Liverpool!

Lucky Luke, shall also hopefully meet you one of these days, you're an amazing drummer dude!

Finally, Wee bastard, I've seen you in action and you're pretty damn good, but seriously, you have to behave more for our KT, shall look forward to meeting you too though.

Cheers, Love

Leanne xx (Freed)
You guys rule!! You injected so much energy and charisma into the live gigs and it really enhanced the experience. Big up yerselves.

Kenny you have changed the way I look at Dustbin Lids forever!!

Keep on rockin'

Craig (TheCraig)

Dear Kenny, The man. You won't remember this, but I drunkenly insisted on opening your beer for you at the Sheffield Leadmill back in May 2005. You then had the patience to listen to my CRAP BANTER for a good 10 minutes after that. I'm so sorry.
Maestro, polymath, LEGEND. I salute you.
Dear Arnie, Tight buns, tight bass. What more could you want? Loving your work, and loving your tank tops. Although not really loving the fact that my other half adores you.
Keep on plucking.
Dear Luke, I've never seen a drummer smile so much, it's totally infectious, and...just plain fabulous! I'd swear you have arms like strawberry laces. Amazing!

Dear Sam. I really fancy you. Even when you wear white winkle-pickers. Other than your perv-value, I do thoroughly appreciate the musical value you have added to the whole experience.

Stay hot.
LauraG
xxx
The Salty Dog Four

How amazing are you guys!
You are the best musicians I've seen in a long while!
You rock!
Much love,
Becky Arrowsmith, 14
xxx
Well, what can I say about four smashing guys who, like KT, have gone from strength to strength and have now got quite a following of their own?! Boys, you are all amazing, and each bring something special to your performance; you're all a joy to watch.

Arnie, you're a legend. The style, the presence, the skill... mesmorising.

Kenny, you're a sweetheart, and will forever be remembered for your use of the illustrious dustbin lid, which was played with such skill!

Lucky Luke, the one with the wildest hair, biggest grin, and the coolest drumming style. Rock on, you total dude.

Last, but certainly not least - Sam. There just aren't enough words to describe you and your effortless style and skill.

Keep on rockin'!

Becs xx
Dear chaps,

Just a small thank you for generally being tip-top muscians and continuing to completely rock my socks off! You always look like you're having a hoot when you're performing and i think us as the audience get a lot back from that!

So here's to you stylish bunch, cheers!!

Lis (jaffacakes) x
Arnie keep wearing those retro clothes, you look fab!
Kenny Keep blowing your trumpet til you have no breath and banging your bin lid til your arms ache! hehe

Luke.. your still a lucky bastard! lol
Loving you on the drums!
(daffers)
Luke: Love the drumming! It's amazing! Fantabulous!

Arnie: Rock that bass, HELL YEAH! \m/
Kenny: Well, without the dustbin lid, you were marvellous. With it... gosh it's like talent...except more talented...if you see what i mean...

Sam: ooooh I love the tubey thing you use that makes the guitar go weeeeeooooaaaawwwahhhhhhhhhwooooooooeeeeewwww...that is a technical term, I can assure you! Dudish guitar playing! More pleeeease!
Matilda (StarryTwiglet)

"Arnie Appreciation"
"He totally rocks!" (Natalie Houghton)
"Arnie = legend!! love him!!" (megs123)
"Arnie. You're so lovely. A bit Mr Darcy really" (Chunk)
"Arnie is a total dude, make that a fact. He's a rather handsome chap too!" (THFCGirlie)
"that man is freaken legend!"(Z A wuvs K T)
"Arnie is da man!" (Helen)
"Indeed I was most impressed with the Arnster last night in Nottingham. His cello playing was pivotal, such a haunting sound with KT's voice, superbly done. He's a mean player of the bass too (both types!)" (redbaron)

"Kenny Appreciation"
"as well as being very handsome he is also very talented" (MARTINA)
"BIG respect for Kenny, very talented man!! The dustbin lid just says it all...." (megs123)
"Kenny - you rock! Fellow North Wester too!! x" (Natalie Houghton)
"ALL bow down 2 Kenny, the KING of the dustbin lid!!" (x_KT_rox_my_sox_x)
"Great playing by Kenny on False Alarm - quite different section there than last tour. I love his improvisations." (AndyJ)

"Luke Appreciation"
"Legend!!" (megs123)
"The man with limbs of jelly, massive hair, and the cheesiest grin ever seen on stage" (LauraG)

"damn right hes a lucky man, one hell of a drummer aswell and the coolest specs in druming history!" (Phil (irish boy))
"What a sweetheart." (Natalie Houghton)
"All hail Luke...

THE DRUMMING GOD!

Tis great watching him on them drums of his, he always looks like he's having a right good old time" (jaffacakes)

"I love Luke... just looks like he's having such a great time everytime you see him.. love his drumming style..." (Gem)


"Sam Appreciation"
"rock on the mighty, mighty Sam!!" (freed)
"Lovely lad, great guitarist! x" (Natalie Houghton)
"He's a beautiful looking guy. I hate him." (Greig)

"What an inspired choice it was to invite Sam to join the band from the last tour onwards - he is great!!" (AndyJ)
"i would just love to say sam on guiter wow, ur solo rifts are amazing." - Indigoeye
"Hey ...what about Sam on the harmonica?? Is there no end to the boy's talents?" (Helen)

"Sam can do no wrong!" (Zeddly)

"I thought Sam was in amazing form." (AndyJ)


"Look-a-likes"
It's not just KT with a look-a-like...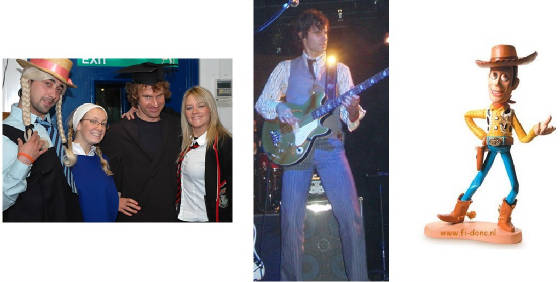 Left: OK.....just been peeking at pics of Radio 1 School Uniform Day.....and I was shocked at how similar Producer Richard off the C&E show looks to our very own Arnie Bass Boy!! (the future mrs vegas)

Right: "How much does Woody look like Arnie? They could be brothers!!" (lava)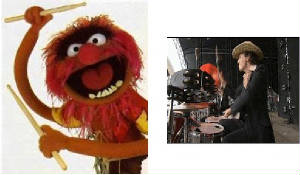 We're not sure who said it first but, Luke, you remind us all of Animal from the Muppets!






All animations made by Leanne (Freed)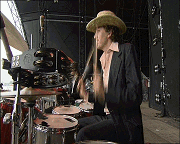 Both animations by Clarissa (Univers&you)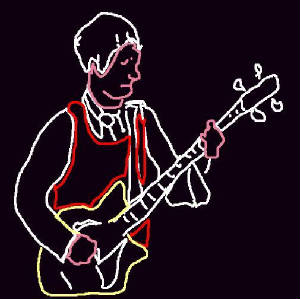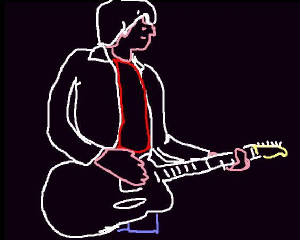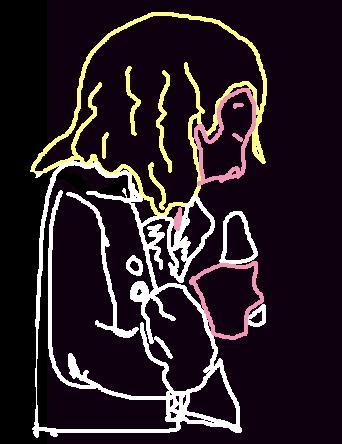 All above pictures by Tash (ickle freak)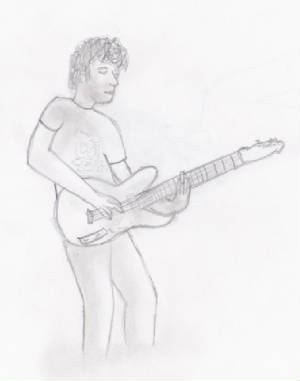 Leanne (Freed)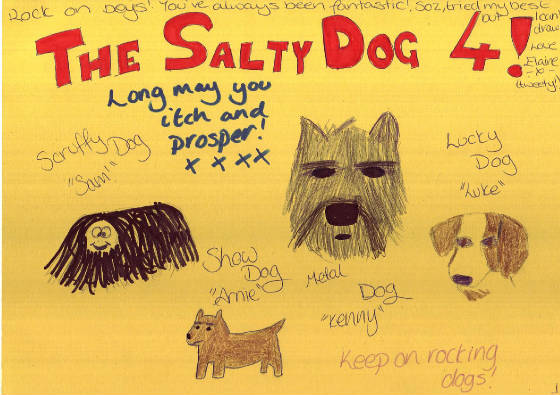 Elaine (tweetypie2005)
*universe&you* (Clarissa)
(Kati)