Messages from members of the Tunstallation Nation....
Miss T. You are a neverending tap of inspiration and a one and only. I am so thankful to have crossed paths with you on this mad musical journey, and indebted to you for taking me underwing for an amazing part of yours. A top mentor so you are. Hopefully my balls will prove to be as big as yours and music will afford to pay my bills too after 10 years! In the meantime, 'mon the busking!

Respect to you musical sister, let's take over the world Fife stylee.

Lots of love

The Chotch xxx

Ps. Hurry and get the 'fico on tour with you! We're pure gagging for it! (Donna - Amplifico)
Hey KT,
So back in October 2004, I was watching Jools, as you do, and on comes this KT Tunstall girl!! What struck me first, and i think like most, was the use of the loop pedal, which I'd later refer to as....Wee Bastard. I'd never seen such a thing before, totally amazed me!! I think i got Eye To The Telescope around January time and didn't stop playing it.
Decided to join your forum, a first for me, never joined a forum before!! PM'd you and when you replied, well, almost collapsed!! I think then, i realised that you were an artist and a person in a million, cos very few artists would do the same!! And you're occasional visits to the forum, well they put a huuuuuge smile upon my face!!
In September 05, I had the pleasure of meeting you at the London HMV signing!! Well....what a bizarre day that was!! My first time seeing you live and was just in awe!! I've never been more nervous meeting someone in my entire life, I think everyone's like that with someone they look up to and respect so much!! I remember walking up, shaking like a muppet....and without me even saying anything you knew who i was....most surreal moment of my life!! My mates did their best to keep me chilled after that haha!!
Managed to see you live in October 05 at Shepherds Bush Empire, was seated up with the gods, but still managed to shake my thing!! You are the best act i've seen live, so much energy, passion and witty inbetween comments!! And I love the way you are with the lads, it's clear to see that you're all doing something you love!!
I've had a tough couple of years, since developing the illness M.E, but as corny as this sounds, with the help of your music, I no longer have the deafeated attitude that i once had!! That I thank you for, you're my inspiration and my hero, who makes me believe that if you try hard enough....you'll get to where you wanna be!!
You also got me to pick up my guitar again, one day I'll challenge you to a duel....give me at least a few years though....cos i'm still crap haha!!
Congratulations on your shiny little Brit Award, no one deserved one more than you!! I think you gave the best acceptance speech that night, forum's favourite quote being "Ladies....disregard your limits"....I'll keep that advice in my mind always now!!
So I think I better wrap this up....I congratulate you on an incredible year, I can't help but in some way feel so so proud of all what you've achieved....and it's only the start KT!! Cheers for the forum, I've met some amazing friends, who keep me happy!!
It's been a pleasure making this website/fanbook, along with Becs, for you....you've gave so much time and patience to us fans, this was the least we could do!!
Keep rocking, never change!! Here's to an even better 2006!! ROCK ON THE TUNSTALL!!
You.Are.A.Legend.Fact!!
Loadsa Love
Megsxxxxxxxx
To the girl that's got it all,

Well, what can I say about the most incredibly genuine, talented, down-to-Earth, well dressed singer around?

KT, you are truly an inspiration, and have brought so much joy to so many lives. You give everything your heart and soul, which adds so much depth and meaning; your passion and dedication to what you do helped me through some tough times. Without you, I wouldn't have met some of the most fantastic people; thank you for bringing us all together and allowing us to celebrate the gift of music that you have so wonderfully given us.

Keep on doing what you do so well and collecting those awards - don't ever change!

May 2006 bring you even more well deserved joy and success.

Becs xx

Hey KT,
Congratulations on a magnificent 2005! Hopefully 2006 will be even better for you. You'll probably be over in America when reading this, wowing the crowds there too.
Don't worry we won't forget about you while you are over there, but you need to come back soon because we'll miss you!
Good luck at the Brits too!
Lots of Love
Jenna (truebluejen) xxxx
You're a total inspiration and have provided the good kick up the arse I needed to pick up a guitar and start playing!
You've got me interested in music more than I ever imagined possible!
Wish you all the best!
Katexxxx (pnutz)
Hey KT,
Just want to say thank you for making such Amazing Songs, and Music, You have a wonderful talent, and I hope that you are around for years to come, and just continue with the talent you have, and just continue to reach out to people through your music, and make them happy like you have many people on your forum.
I remember when I first joined I sent you a message saying how good I thought you were and recieved one back from you saying "singing is ace, reguardless of why you do it" and I will carry that thought around with me, untill one day I hopefully make it like you have with singing.
GO ON THE TUNSTALL!
Luv and Support Always
Kaye
Dear KT,
What an amazing time I have had with all the KT Tunstall stuff. However, the most fantastic times have been at the live KT gigs (live is defo what you do best!)
Just want to say thankyou to everyone involved with your gigs, the boys, and of course most of all you yourself! What an absolute star! You have really given me some of the best music I have ever heard. Long may it carry on!
Most memorable highlights from KT gigs for me:

1. 1st live KT gig - Liverpool May 2005. Made me realise for the 1st time how amazing you were. Was almost reduced to tears on a few occasions, especially during the encore of 'Throw me a Rope' and 'One Day'. The songs I had heard on the radio, eg.BHATCT were fab but weren't comparable to seeing you live!!
2. Regents Park - London August 2005. What an absolutely amazing night! Red wine of course just made the evening even better (those who saw me that night may have understood where I am coming from). Getting a front row seat by default was just hilarious and then my crazy shout out, 'Go on KT', to which you replied 'I am going' was just MAD!! First time I met you was after this gig - will never forget this evening EVER! Met some lovely forum peeps this night.
3. HMV London September 2005: 3 tunes and a signing. Another crazy day. You were on top form this day and looked stunning! Got my CD's signed and had a quick chat with you until security rushed me along. Met some of the lovely forumers again – crazy thing your forum.
4. Manchester October/November 2005 tour. Fab gig! Proper ace atmosphere with some fantastic forumers - great crowd this night! You and the guys were on ace form and had the pleasure of meeting you again after the show. Most memorable moment has to be mine, Helen and Daffer's shout out, "Rock on the Tunstall"! Hilarious!! God, what possessed us though?!
5. Spur of the moment decision to go to Glasgow, Barrowlands 2005 (thanks to Zed for the accomodation). Met some new forumers and some that I had met before and had a fab night. Memories live on!
6. Pot luck getting in Glasgow night 2, November tour again (thanks to Lauren!). Fabulous night! This was the evening of the pants! Yey! Amazing atmosphere again this night. Barra's was buzzing!! Rock on happy times! Met you on your way out, promise I wasn't stalking you! Also met the lads earlier on-what a lovely set of guys, you lucky thing you KT! Just Kenny yet to meet! Lovely people! Arnie.......well......
7. Hogmananay celebrations 2005 – first the most random but best surprise of being able to meet you at your hotel (that was top!). Then Hogmanay itself rocked, though still think that they should have let you play on through the midnight strike!
8. Camden Town, London January 2006 – absolutely magic gig – intimate venue, which was fantastic! Great meeting you and Luke in the queue and them speaking to you briefly afterwards.
9. Liverpool (postponed gig to January 2006) – All I can say is absolutely awesome!!!! Funny bumping into you on the way into the Everyman Bar/Bistro – made my night! Great support acts this night!
10. The 'secret' gig in Dundee, which I so marvellously won tickets for! Wooo! Front row, intimate setting, FANTASTIC music and atmosphere and getting to ask a question - fabulous! Does life get any better?!!

THANKS AGAIN TO YOU, KT AND YOUR LADS AND ALL THE FORUMERS THAT I HAVE HAD THE PLEASURE OF MEETING!! YOU ALL TOTALLY ROCK!!

Oh forgot to mention....another highlight of the KT year 2005 is of course winning the bracelet! Woohooo! Cheers KT!
Hope there is much more to come,
Love Natalie Houghton xx
Hey KT,
Well where do i start! You have seriously inspired me so much, you've made me believe that it can be done and with some hard work and dedication nothing is impossible (cheesy! but true)
Seeing you live, meeting you and bumping into you in random clothes shops in london has been amazing, bizarre and lovely.
Your music is just completely different and original.Your bringing amazing songs to the industry, you deserve every bit of success you get.
Anyway, keep rocking KT, and thanks for being so real and such a nice person with your amazing talent and success.
Love Peps x
To the wee little scottish lass (aka KT Tunstall)
Just a wee word of encouragement for our fav singer/songwriter/idol/legend. You have had a rocking year and long may it continue!
We have always (and always will be) here for ya – we wish you ALL the luck in the world and can't wait to hear more from you.
Loads of love (times by a scullion)
Anna x x x. (annalsmith)
Hey KT and the guys!!
Just a quick message to say that you rock! I really love Eye To The Telescope, and can't wait for album 2! Your music is really beautiful and is so different that anything else out there! Please don't stop making music!! Thankyou for being different and keeping going for all this time!! You are going to conquer the world!! Love to the guys as well - what an incredible band!!
We're missing you lots here in Little Old Britain......sounds like you are having a fabby time in the US of A though But you do have to come back.....Just remindin ya!!
Scotland needs more gigs too- soon please!!!
Keep up the good work- were all excited to see the global takeover- Tunstall Takes on the World!!
Marian xxxxx (piano gal)
KT,

So much has happened for you since your first appearance on Jools Holland. The success you've had has been incredible and you deserve every bit of it! I feel, in a wierd way, and I'm sure like a lot of the Tunstallites, like I've been on the journey with you,as you say yourself "Everybody sails alone, but we can travel side by side".

From the first time I heard "Eye to the Telescope" there was no doubt I was going to fall in love with it. It carries so much meaning, which you just don't seem to get in music these days. To listen to the lyrics of songs that have the ability to bring tears to your eyes, well, just proves how talented you are as a songwriter. Seeing you play live is definately the highlight of my 2005 and 2006 so far, well, that and getting hit by your drumstick, nice aim by the way, and all injuries have healed well!

Every time I've met you, you've been the nicest and down to earth person. Even at Liverpool when it was absolutely freezing, you still came out to see us, which we really appreciate. I just cant help wanting to be around someone so inspirational and amazing at what they do. And now, to see you breaking the USA.....it makes a fan proud so it does!

It was also through watching you that I finally got round to learning myself how to play guitar, so cheers for that Miss Tunstall! I love playing it, and of course, it's mainly your songs I learn, duet here we come!

KT, we defend you, we cheer for you, we support you, you throw things and we catch them!.....loveable pets spring to mind. Anyway, I'm sure I'm safe to speak for the Tunstallation Nation when I say, Congratulations on everything that has happened for you and dont ever stop! I could watch you perform forever, although I'm sure you'd be extremely tired if that was the case, so no pressure on that one! Thanks for a great year, hope it keeps getting even better!

Rock on the Tunstall!!

Cheers, Loads of love

Leanne (Freed) xxx
To the lovely and wonderful KT Tunstall:

I saw the TOP SECRET thread about this project Megs and Becs were putting together for you and the band and figured, "Why the hell not? I mean, KT deserves all the praise she can get." So here I am, typing a letter to you to throw into this massive pack of greetings from your fans.

I'll just introduce myself a bit. My name's Aki, and I'm 16 and live in California (the San Francisco Bay Area to be a little bit more specific, since California's a big state). I go as Libragrrl2001 on the message boards, and have had the lovely opportunity to exchange a PM with you. Thanks again for the PM! I still have it saved in my inbox because it's just something special I like to read every now and then. :-) You're such an awesome person for taking time out of your busy schedule to answer questions or say a hello back. I (and I'm sure all your other fans) really appreciate it!

I've got a bit of a funny story to share concerning your record. I actually first heard your song "Other Side of the World" from a friend in New Zealand (as I somewhat mentioned in the PM). She told me that I had to listen to this one song and after the first listen through, I was hooked! Honestly, I think my iTunes count read 53 or something like that within the first day. A month later, I marched into the Virgin Megastore to get a copy, and to my surprise, they were sold out! The employee told me to look anyway, so I checked the shelves. Nothing. I checked the bottom shelves. Nothing. I just couldn't let myself walk out of the store without getting a copy of it, so I went on my hands and knees and crawled around the first floor of the store, knocking people over as I go, just so I can hopefully find a copy of your record. Still, I couldn't find a copy, so I walked out and purchased it on Amazon later that day. Needless to say though, the story of my short little self, crawling around like a baby in the San Francisco Virgin Megastore, looking for a copy of KT Tunstall's "Eye to the Telescope", quickly spread amongst my friends. Now my friend in New Zealand who sent me "Other Side of the World" cannot listen to your music without thinking of me on all fours, smacking people around for a copy of your record.

The crazy things we do for music, eh? ;-) It was all worth it though. I've been a proud owner of "Eye to the Telescope" for about six months now, and it's been stuck in my stereo for five of those six months solid (I listened to it on my iPod for that one other month!). And I'm definitely getting a copy of the record once it hits the US shelves! I'm sure the original one I have is being close to worn out anyways. I tend to do that with awesome CDs I really adore and love to bits (literally!).

I also wanted to say congratulations on all the successes of 2005! I'm sure it must have been a whirlwind, but you definitely deserved all those accolades and fantastic reviews and everything. I wish you all the best for this year. I'm sure with the release of the album in the States, you'll be on top of our charts as well! Goooooooo KT!

On the personal note, your music has done wonders to me. For several years, I've honestly lost faith in a lot of female musicians. I don't know why, but I guess it's because I believed there was too much manufactured music out there, and it was only being made for money. Thankfully, I came across your music. It's so exciting and unique and catchy and amazing and touching, all at the same time! I remember when listening to your record the first time through, I thought, "This is so incredible! Golly, I wish there were more individuals like her in the music industry". And I guess from there, I got into some other great female artists, the more classic sounding ones I should say. Thank goodness for musicians like you out there! I would die from all the rubbish bubblegum pop I hear on the radios here in the States if I didn't come across your music. You've got some amazing talent that I don't think I've heard and seen in female artists for a long time in the popular music scene.

I've also been trying to write my own music for a while, but couldn't exactly figure out where to start. I've been writing lyrics for several years now, but never could figure out melodies that would stick with my lyrics. It's always a developed melody with no lyrics, or a developed set of lyrics with no melody. Talk about frustrating! The other week, I was given a school assignment to present an event that changed my life. I picked my event, and my teacher, who knew I wrote songs from time to time (though they were often really, really bad songs!), asked me to write one for my project. I sat with my guitar for several hours just strumming and trying to think of something, and getting so frustrated, I put in two of my favorite CDs: your CD and Keane's "Hopes and Fears". Both helped me in the development of my own, complete song (which actually didn't turn out as badly as I thought it'd be), though I'd have to say, in terms of the guitar work and all, your music helped me the most. So thank you for being such an inspiration!

Well, I guess I should wrap up. I mean, I could ramble on and on and on about how wonderful you are and how great your music is, but if I keep on writing, I'm sure that I'll come out with an entire book! So in that case, I'll leave it up to your other wonderful fans to leave you a note and telling you how great you are. :-)

Unfortunately, probably the time you read this letter, it'd be a while after the San Francisco gig on January 31st. I swear, I had all set plans to go! But with school and all, it just didn't seem possible. It upsets me a bit, but seeing as how quickly your show sold out, I'm sure I'll catch you around the area sometime soon. Can't wait for then!

You're a fantastic musician and person KT, and I adore the music you've created and shared with the world. Thanks a bunch! Say hi to the band for me, cause they're totally awesome from what I've heard. Definately can't wait to see it all in action for myself one day.

Keep on rocking! Cheers! Aki (Libragrrl2001)
Eye To The KT Scope

I was lost in my musical land, while Ella's, Joni's and Nina's legacy was melting after hours of listening.

I was longing to discover new talents, who can open my eyes widely, tame my ears and above all seduce my heart. But I only found lyrics without good tunes, while some melodies sounded like orphans with insightful text. And if I ever happened to find a musical diamond, the interpreter was only singing somebody else's song.

And then I had an eye to the KT-Scope and discovered an amazing sky full of life, generosity and energy. I found KT's world, my musical land is now safe and a deep happiness has blossomed thanks to the band and KT. KT, a witty, wonderful and lovely person, whose generosity impresses me a lot. Without knowing it, you've created an incredible and touching musical family, that is is to say your band and all the people from your forum.

It is so rare to get in touch with so much generosity and happy thoughts that I felt the urge to express to you my overwhelming and grateful happiness. Keep it that way, you're a terrestrial goddess, and from the bottom of my musical heart, thankyou KT.

Love Aurelia xxxx

PS: You gave me a lot, I owe you so much, so, here's a coupon for a free pint of beer:

I, Aurelia from Paris, France, Europe, Universe, hereby commit myself to offer a free pint of beer to: Ms KT Tunstall, from Scotland.

Wherever and whenever the said lady may present this coupon to myself. NB: this coupon has a period of validity of 99 years.
KT!!
Keep on rocking like ya have been for so long!
We all love you loads and are going to continue to support you through thick and thin!
Thanks for coming on and talking to us about the randomness we come out with.. Its a real pleasure!
All the best in the future!
Peace Out!!
Rock on Rockstar!
Amy
xxx (Nedderz)
Dear KT,

Ever since I, like a few others on this forum, first stumbled across you in the late hours of Friday 22nd October 2004, as we sat, weary and perplexed, but at the same time intrigued by what we saw on our television screens, I can not believe how much you or rather, what you represent, has taken over my life, in a good way. Thanks to a shared appreciation of you as a person and your music, I have met some of the greatest people I could possible hope to imagine.

Over the last twelve months, these people have given me the belief in my work and what I do, and although I may be neglecting my university work in favour of posting on this forum, I wouldn't change it for the world. After all, everyone knows I'm going to be a poet anyway ;-) Furthermore, although I would be the first to admit that there is the occasional forum member that winds me up, or a thread that I think is pointless, on the whole I believe that, for the most part, the people that post on the board, are the nicest bunch of people I've never had the pleasure to meet, and the ones I've met are even nicer.

It has been through knowing these people, that I have had the pleasure and delight of meeting, and conversing with you (albeit briefly), not once, but twice I've been able to meet you backstage, which is all the more enjoyable because I didn't ask for it to happen, and although I've thanked them on more than one occasion, I'd like to do it again. Andy J was great to all of us in Sheffield in May, taking the time to arrange for us to go and see you, as we did, like a group of awestruck schoolchildren on their way to meet their idol. Obviously a huge thank you has to go to you and your people to, who allowed all thirteen of us to gatecrash and drink all your alcohol.

Seeing you again in Glasgow was, for me, more pleasant though, because it was more relaxed and I could actually have a conversation with you (although it did just go along the lines of Pauline and Zed introducing me as the one who writes poetry (or something like that). Anyway, Pauline knows how much I adore her for inviting me to see you, out of all the other people she could have chosen. (as I said to her at the time, I knew all those months spent trying to flirt with her on MSN would come in handy)

If I'd known that such meetings, if that's what you can describe them as, would be as rewarding, and memorable as they were, I'd have made more of an effort to say something of interest, as I so often do on the forum. Hehe.

Like many people, I believe you're at your best when you get on stage with the lads, and become the entertainer for the night. Despite being musically inclined for a long period of my time, I think you were the first person I actually saw live, in Manchester, sitting on my arse, in November 2004 and at the age of eighteen (as I was at the time) having not been to any gigs before is quite embarrassing. It's a bit like not having sex until you're forty. Anyway, over twenty gigs later, you, are my most regular artist that I've seen (although this amount pales into insignificance compared to a number of other forumers) and that's because I honestly adore watching you perform.

I am also delighted that you are a fan of Bob Dylan, and although I have a suspicion that you've only listened to the first two tracks off Blood on the Tracks (joke), your rendition of Tangled up in Blue is a joy to listen to repeatedly. Obviously, I still prefer Dylan's version though.

You have destroyed my belief, which admittedly was installed by mainstream society and popular culture, that all good artists are discovered in their early twenties, (Dylan, Kate Bush, Lennon and McCartney etc) and reach their peak of creativity at the age of twenty-seven, and the enjoyment you appear to be having whilst you perform makes up for you only having released one album and not many more, as I'm sure you will.

Here's wishing you much happiness in the future, and the success you most thoroughly deserve.

Tom x (TheGuiltyUndertaker)

Ps: I hope you like the poem I wrote.

The Butterfly Effect (or why I like rap)

There I was, one Saturday morning in October 2004, sat on the sofa TV and video on, remote in one hand and a cup of coffee in the other, watching Later with Jools from the previous night. Then (almost) un announced (he does mumble a bit don't you think?) This pretty young lass with a guitar comes on. 'Looking very nervous' I think. She messes around with her feet on something, bangs her guitar, and I nearly spill my coffee and am mesmerised. After about 20 seconds I re wind the tape to watch properly. I had NEVER seen anything like it in my life. I'm covered in Goosebumps; Jools mumbles the back announcement so I have to wait till the end of the show to get her name.

Then it's hit the web time. I find the website, and that cute little message board that used to be there. I leave a message (like 100's of others that day) read the bio, wet myself laughing at the diary entries, and pop on to HMV to order False Alarm. Then that's never off the CD player from the moment it arrives, I'm on the message board EVERY day, I think I'm hooked. Then one day, no message board. Not in the morning, afternoon, or evening. I'm feeling a bit lost by now. But the next day there is a brand new shiny forum with go fast stripes. WooHoo !! So I start posting away. Hmm, I don't think I'll be on here much I thinks to myself. After all, every other music forum I had joined I hadn't posted more than a dozen times.

Well, its now a year on, over 14 THOUSAND posts, I've made some great friends. The sort that you hope will last forever. Meeting people, sending CD's, phoning, all the things that you are warned not to do. It's the best forum by far, and that has to be because KT attracts the best fans by far.

And all because Naz's father had a cold. I love rap. (James1)
KT,
Just wanted to leave you a little message to say how grateful I am that your music has been given the chance to shine in such a fantastic way. I had really started become dissillusioned with the state of musical taste but Eye to the Telescope swooped in and saved the day! Your live performances are amazing and you have set a level that few others will ever be able to achieve. Thank you so much for sharing your wonderful talents with us, you have given one very bored 22 year old history student something to smile about!

Thank you again and keep enjoying the ride!

Jo x (s'more adore)
Hey!!
Your music is ace, keep it up! Ever since I first heard 'Suddenly I See' on a TV ad. I loved it, and I went and bought the album immediately. Then, I realised that tickets were on sale for your Barrowlands gig, but they were all sold out! Have a great time in the US, but please come back and visit us Scots soon!! I can't wait for the new album, and to seeing you live. You have really inspired me to play my guitar more often, and I am always playing you songs!
So, just thanks for making amazing music!!
Katie (and Sophie, my twin sister!), Glasgow. (Kati)
Hi KT

I first saw you perform at the Mercury Music Prize last year, and quite frankly I was blown away, the Black Horse and the Cherry Tree was the best live solo performance I have ever seen.
This prompted me to try to find out more about you and your wonderful music. I came across your website joined your forum (username: www_velodrome_co_nr) and asked you (like many others have, lol) what the famous pedal was.
This prompted me to then go and buy your album and my very own wee bastard so that i can woo hoo too.
Slowly but surely I too hope that i will carve myself a music career one of these days, and if I do its done to you. I was previously in a band which split - this left me directionless for over 18months until I saw you perform, then I realised that I could perform solo and still make the kind of music that i love.
The world of music has waited years for somebody like you, and now you are finally here and you have lightened up a whole generation of music fans with your woo hooing and superb tunage! You're an inspiration to so many, and surely its not going to be long until we get some KT inspired acts breaking through.

Please continue to shine and smile

Love

Andy (www_velodrome_co_nr)
Kt

THANK YOU from the bottom of my heart

You'll never know how much your music has helped me survive this past year.

Apart from that i don't know what else to say. I still get goosebumps listening to Universe and You, have to refrain from loud stomping when Stoppin the lovin is on and try to hold back the tears when listening to Heal Over.

I love you for your music and being such a top lady.

I just hope one day i can make music a millionth as good as you.

Loads of Hugs and high fives

Vincent sales

p.s I don't suppose i could play on stage with you one day;)


KT,

Just a quick message to say a huuuuge great big stonking thanks for the music, this may sound over the top but it's totally enriched my life and i'm so glad your cd is up on my shelf
Haven't felt like there's really been a female singer/songwriter i could aspire to be like or look up to until now so thanks for being a total inspiration, and not just musically, you kick arse lady!!

Lis (jaffacakes) x
KT,
Thanks for breaking across the pond and rescuing us from the bubblegum hell! It's about time we had some proper rockin' up in here!! Keep on doing your thing - it's real, it's fresh, it's original, and it's got substance. Oh, how hungry we have been!
Here's to you taking over the States in '06 - you shall be seeing my smiling mug front row all along the east coast :)
Yer fan, and designated Forum "American Correspondent",
"Mis", Melissa Billings
Woo Hoo,

Hello KT.

Thank you so much for your music. Listening to your songs always means forgetting all problems in everyday life and reloading with positive energy during some bad times. I'll never forget the day we met in Stuttgart last year after the concert in "Die Röhre" - you might remember, the former car tunnel which got changed to a concert venue... and when we shook hands after the show. Almost unbelievable,still now, a few months later.... What a mess that I had no photo with me. You make me me do things of which I should never have dreamt , like going far more than 600 km to France for a few days, just to see your shows. You're so amazing ! I envy Luke for having such a great girl like you are.

I really hope that you kick ass in the States in the next couple of weeks and give them lessons in good music, haha, but then I also want you to come back to Europe soon again, especially to Germany and celebrate a hell of rockin' party with us in summer.

Love,
Christian (Chris91275)

Congratulations an amazing year and here is to bigger and better things. Thanks for the memories, songs, the love she has brought me not only through her cd but her gigs too. Michael (Chan)
Shabba KT you foxy lady!! Just a short message to say muchos gratius for absolutely everything - your patter would put the Chewin' The Fat boys in ecstasy, your looks showed the world that Scots lasses are the finest, and your music.....dang! Your music..... well, it is quite incredible - I loved the album but live you are incredbile & so incredibly sweet, and oh, I'm glad to see my glowstick-throwing idea at Barrowlands caught on too! Wink Ok, that's enough sucking up for now - might as well put it in this book seeing as I'd probably do a Marty McFly "chicken" on ya in person. Last but not least, I'd like to say thanks from all my friends too KT - we've got families with uncles + aunts, etc who are all fans too which ain't easy considering we're of the Stone Roses/Chemical Brothers-type of fan but you we all share Very Happy Take care Miss T, keep on doin' what you do best, all of the above! Love, hugs & a cheeky slap on the a*se, Stevie xxx
Hi KT,

Well...what a year?..i bet you can't believe the year you've just had eh?
it's been bloody brilliant...not just for you and the boys, but for us fans as
well...
for some of us (me) i was beginning to find the music scene pretty crap,
and then i heard your voice...and BAM...had to find out more about you...
and ever since, i've been hooked...to say i'm a keen, ardent, hardcore fan of your's, is probably bit of an understatement!!..i dont need to tell you how much of a fan i am..i think you, and the boys already know..
Well, the album is pure class, and should have won the Mercury prize...of course a completely unbiased opinion..but you should've.
The instore mini-gigs, and signings really propelled your popularity, and a lot of my mates are fans of yours, not just because of your music, but because how you are..how warm,kind and friendly you are to the fans..
i for one would like to say "thanks" for the warmth and friendliness i always get from you and the boys when we meet..and we do meet quite a bit!!and for the patience you have to sign all my merchandise that i seem to find tons of..it really does mean a lot to me...
Now...the concerts....what can i say...BRILLIANT....i just wish you could do one every week!! but all the concerts have been superb...especially the Regents Park concert....and the Underworld in Camden gig ,with just you and Luke, was excellent.. a lot less fans there, than lets say Shepherds Bush, but a wonderful evening, and a wonderful atmosphere...you really should do a few of those a year...quite brilliant..
All i can say is, good luck at the Brits, and i hope to see you with 3 Brits, at the end of the evening...if anyone deserves it you do, and i'll be hopefully there, outside the venue,in the cold,praying that you do win the lot...
Will most definitely see you later,
Your number one fan!
Andy..
Dear KT,

Many people might praise your music to me, but the thing that makes you stand out to me is the way that no matter what obstacles were put in your way you still believed in yourself and carried on battling your way to the top. You deserve every bit of you success and I hope that it continues for many years yet.

Matt (iwficon) x
Dear KT
& dudes
!

Glad youz had a safe journey back for the states!
Cant wait for the new album and DVD, btw love the new APTF video (very evil KT like)
Still playing the ETTT album and still loving the tunes you bring!

You guys are legands!
Good luck for the Brit Awards (i voted for you in all the categories even though you'r not supposed to be in some of them
but still you decerve them all!)
Will be watching tv all this week as you's are on almost every night! lovely!
Cant wait for you's to come to Scotland! entered competition so hopefully this time round ill win summit!

Dying to see you's live - everyone says you are 'Brillo Pads' which they are obviously not wrong about but still must see for myself! lol just incase they are wrong NOT!

Anywho! luv ye's all

*Big, Scottish, tartan, loch nessie monster, musical, guitar, creative hugs to you all*
Chel-c x
(

1TKFJVCS)
Dear KT,

I hope you can read this message and hope you will enjoy it.

There must be a tons of ways to say how you mean to me
But, that's a little weird to say how i like you without know you well

I love your songs, they make me feel good
It's strange how your words and your music can express how i feels about some ways

I want you to know that you're the ONLY artist who :
- can make me shiver
- can make me cry
- can make me laugh ( you've got such a wonderful humor)
- can make me scream ( your gigs are awsome)

I definitely know that everybody says that to you but it's true.

You're are the revolution of the music's World !! !! !!

Big Kisses to you

Rendez vous to the France gigs !! !! !!

PS : Sorry for my english, i must practice a little more !!

Camille De Paris
Hi KT,

Thanks for reinvigorating my love for music. Before the Jools thing I was getting a bit disillusioned with everything music-wise. The Exchange show in November 2004 was the first time I saw you play live and it really was something special. I remember standing at the side of the speakers watching you play Throw Me A Rope on and thinking to myself "Wow! This is the start of something really special". It was just one of those moments in life that recharges the batteries and makes you think about life in a more positive way. From the date of the Exchange show there were always KT gigs to look forward to right up until the end of the last U.K. shows in November 2005. It was just a great year.

I remember the day I bought Eye To The Telescope. My brother and I had travelled through to Glasgow to see the Manics at the SECC in the second week of December 2004. I marched into the venue late afternoon to be met by notices saying 'Manics cancelled tonight', or words to that effect. Much swearing ensued from me. We decided we'd leave the car and walk up into the city centre to get ETTT. Into Virgin records on Buchanan Street and ask the guy behind the counter about Eye To The Telescope. He hadn't heard of it and started fiddling with his computer. I was a bit nonplussed, it was released that week. I considered mentioning something about the Fence Collective but reckoned the dude might have given me directions to the nearest Garden Centre. Down to HMV in Argyle Street and voila! Copies of ETTT on the shelf! Result. (Needless to say about 4 months later the line went for miles of fans waiting to get OSOTW signed on that exact floor of Virgin records where the guy hadn't heard of an album called Eye To The Telescope. Yah boo sucks to him!)

I never doubted your success. In early January last year checking the HMV album chart and jumping for joy because ETTT was at number 72, then 68 the next week. Not for one minute did it enter my head that the album wasn't going to be a massive success. I'd been in that situation in the past with artists I've liked and worried that they'd find success with a new release but fretting that nobody was going to buy it. And people didn't buy it. It's a demoralising feeling but it wasn't an issue with you.

Finally thanks for being so really nice. The highlight of my year was the Carling Academy show in Glasgow. It was a fantastic concert in front of a huge crowd, you'd made the time for the schoolkids in the afternoon who couldn't see the show, then after the gig you spoke to everyone who wanted a bit of your time, even though you must have been knackered. You made a lot of people's night, and in my case a couple of months at least.

Thanks again for all the great stuff and continued success. You really deserve it.

Greig x
Dear KT,
Congratulations on a brilliant year!! the album is amazing, its being living in my cd player. i saw you in sheffield in october and thought the gig was amazing! You inspired me to try and learn to play the guitar, i'd like to thank you for that. Good luck in the future and i hope this year to be equally succesful as last, if not more.
love
Tash XX. (ikle freak)
Congrats on all the success. As somebody trying to break into the entertainment industry myself its nice to see somebody take the small steps up the ladder doing all those weird and wonderful little jobs to get noticed and get a foot in the door as opposed to seeing somebody just leapfrog everyone to the top, often undeservedly.

Keep up the fantastic work, all the best for the years to come

Craig
Hi KT & the lads!!

Just wanted to say thumbs up for making such class music. Eye to the Telescope is still number one on my list of favourite albums!! Can't wait for the new DVD and album. A massive thanks for showing me an absolutely quality first gig at Manchester Academy. It was the first time I'd seen you live and you made the gig unforgettable! You are all legends live!! The fact that KT and Sam came out after the gig to see fans shows what lovely people you are. Can't wait for the next tour!!

Cracking performance at the Brits! Big congrats KT on winning Best UK Female and a great speech to follow!



All the best and keep on rockin'

love Clarissa xxx
Dear KT,

What a ride you're having! I never thought it was possible to be so very proud of a complete stranger, but I can't help myself. When I first saw you live in concert at the Sheffield Octagon last year I almost wept, because I hadn't seen or heard anybody with such raw talent and enthusiasm in such a long time. I almost feel guilty that I didn't see you on that first Jools appearance; that it wasn't my right to have your music make such an impact on me so late in the day. You had touched so many people by the time you got to me. But your fans are amazing, and they replicate the way you deal with the world – honest, open, with a smile on your face and the gritty determination to succeed.

Your music is ingrained as part of my world now. I bought everyone I know a copy of your album for Christmas because I needed to spread the word. Your talent is so inspiring. I messaged you via the forum late last year to tell you that as a result of your music I had picked up the guitar again and you replied. I can't tell you how thrilled I was (also slightly embarrassed for getting quite so giddy at the age of 33). You're just amazing. I love the fact that so many of your fans have had opportunity to meet you. I love to see the photos and the smiles, other fans as proud as I am. It must be surreal from where you're standing, after all the years of effort you've put in, but your talent is shining out across the world now and it's just fantastic to observe. My girlfriend and I met you after the rescheduled Liverpool gig in January. We met Arnie and Kenny too, as well as Mr Ed Harcourt, who were so lovely. We'd been waiting so long and I was so cold that it all came and went in a blur, but I grin at the photo's on my phone virtually every day. You always take the time to give your fans some attention and it's truly admirable, given how busy you must be. You are an amazing person, and are surrounded by incredibly talented musicians. All of whom take the time out to meet and greet with the fans too. That means more than we could possibly say. When you won your Brit we were all cheering across the land. There was nobody deserved it more than you.

So then, KT Tunstall, Best British Female Artist, extraordinary talent, sunshine of our lives, I wish you every success as you conquer the world. Because you will, we know.

There's absolutely no doubt about that.

Kate (Hoofie) xx
KT.
After getting excited over every article written about you, every picture printed, every tv appearance, radio interview. A well deserved Brit award. Best British Female and labelled brilliantly.Your an inspiration to many and your rise to success, having taken its time makes it all the more earned and respected. Congratulations of all of your success. Your music has brought meaning to so many peoples lives. A song for every feeling. All the best in the future and your ever expanding popularity. I'm just proud to say we recognised your talent early. And have had pleasure watching your rise to the top.

All the luck and best wishes.

Charlie. (aka Lou, u can call me Noo!)
Hi KT,

It's been just fantastic to watch your career take off over the past couple of years - you so deserved to win the Best Female Brit, I was chuffed to bits when they read your name out! Right from the moment I heard your guest vocal on the Voi's album, I knew you'd go places, and as soon as I heard you perform live at the HiFi Club in Leeds - well, that was it!
Lots of love
Debbie xx
Hi KT!! First of all I want to tell you that it's really hard to write this, so please forgive me if I sound like an idiot.

So, where to start... Well I suppose I need to say congratulations! It looks like you've had a great year, and well deserved. Here's to many MANY more, and best of luck over in the states... just make sure you don't ever stay away for too long, we will miss you over here. And an enormous congrats and a woohoo on your Brit award! You deserve it so much, I'm so happy for you! It's fantastic that your amazing talent has been recognised... I'm sure there will be tons more awards for you soon.

Second I want to say thanks. I really want to avoid sounding like a lunatic fan and I know you must hear this all the time but I absolutely love your music. It never fails to put a smile on my face. Thankfully I got to go to one of your gigs back in October. What a night! You were fantastic and I had a brilliant time (and so did my brother who I dragged along, he realised the genius of the wee bastard). Can't wait for the acoustic extravaganza and whatever else is coming up. Keep up the good work. You're an absolute legend!!!

Loads of love
Eimear xxx
Dear KT, just to say thank you for restoring my faith in contemporary music! I hadn't been so passionate about an album in years until ETTT. And as for your live gigs…amazing. It's such a testament to your talent to see the incredible range of people from all walks, who've converged on your forum, found common ground, and forged friendships from it. So thank you. For all of that. I hope your success continues at the current manic trajectory. All thoroughly deserved.

LauraG.

xxx
Hi KT

As part of this fab idea of Megs I just wanted to say what a monumental year its been and how much we've all enjoyed watching your growing success. The lyrics on the Voi album blew me away and its been great to see you getting the recognition you deserve on your own.

Congratulations on the Brit, in my opinion you should have got all three but the buggers wouldnt take bribes! Take care, hope this year is as fab as last... by the look of the American interest its going to be. Have fun, be good..and dont let those Kaisers steer you too far off the straight & narrow!
K xx (Karen)
Hi Katie,

Just wanted to tell you how proud the family are of your success. Knowing that we missed out on almost all your life, it's special to just be able to listen to your lyrics and be able to see how much of an amazing and talented person you really have become. I wish you all the very best of luck for the future and keep on pumping out those wicked tunes.

Lots of Love

Kelly and Judy

xxx (KellyT)
KT

Thank you for the music!

Your music has helped my though a lot of rough times over the year and for that I am truly grateful.

And what a fantastic year it has been for you! I'm so glad everything has gone so amazingly for you! You definitely deserve it!

I don't know what else to say.

But I think you should know that you are my: hero, role model and you mean an awful lot to me as well as a lot of other people out there.

Hears to a fabulous 2006 and a long time after that!
Congrats for the Brit. Can't think of anyone who deserves it more!
Much love,
Becky Arrowsmith, 14
xxx
KT,

Ever since that fateful night on Jools back in October 04 i knew that you were going to be a huge success and I'm so glad that you've proven me right. You have worked so hard to get to where you are now and you deserve every bit of it. I'm glad to have been able to see you in tiny venues and apologise for everyone sitting on the floor in Manchester (although you need to apologise for giving me the dreaded lurgy you were suffering from that night!)

Eye to the telescope is a fantastic album and i am looking forward to album two as i know you can only go from strength to strength!

i suppose i should also thank you for bringing me to the forum and being able to interact with all the other lovely KT fans around the world!

Keep up the good work KT!

All the best

Trev (djtrev) xx x xx
Hi Kate,

And first off, sincere congratulations on your Brit award. We are all so proud of you in the Tunstallation Nation.

I still remember when I first heard you. It was about a year ago, and not on Jools unfortunately. I was driving to work and the announcer said he originally did not like this next track, but it was growing on him. He then played Black Horse and the Cherry Tree and I was smitten. I bought the album (first edition) that weekend, and booked to see the Sold Out Sugar Club gig. That Saturday, in Tower Records, I was embarrassed to ask you to sign the album and single, while now I see people with barrow loads of things to be signed!

Well I have now seen you six times, including Cork. I have never driven that far before to see a gig, and never stayed away for a gig, but had no hesitation in doing so, and no regrets afterwards either. I never before joined a forum but am proud to be a member of yours. What a lovely bunch of people, united by their love of you and your music. Through you I have discovered such marvellous other music as Oi-Va-Voi, Amplifico and Sophie Solomon, and more through your fans. I may be far away but am as keen a fan as any that you see every day, and a loyal member of your overseas SWAT Team.

You are clearly happy and excited when performing on stage and it shows, and I hope it continues to excite you for many years to come, as it does us. I love your music, your looks, your kindness, your accessibility and your eloquence - what a great speech at the Brits, instead of some of the silly quips by others, which I am sure they would be ashamed of afterwards. I wish you continued success wherever you next choose to conquer, and you know you will always be welcome back in Ireland. We will be ready and waiting every time.
Gerard (Lonesome Pine)
KT, just a lil message to just say thank you for bringing beautiful music to my ears. You're a woman with extreme talent and beauty inside and out. You'll always be a huge inspriation, and I wish you all the luck and sucess for the future. Can't wait for the 2nd album!!! Continued support and love, Chantelle AKA THFCGirlie.xx
KT,

First of all congratulations on your Brit Award (you deserved all 3 but hey
) anyway I just wanna say that you deserve all the praise your getting and I hope you have even more success over the pond.

nicola2980
Dear KT

It wasn't that long ago that I first heard of you and was instantly blown away when I heard a beautiful song called "Other Side of the World" and had to hear more. Since then I bought the album (too bloody right!), I have joined this lovely forum and seen you perform at Shepherd's Bush, which was amazing.
You've had a fabulous year, which was truly deserved...and about time too, eh?! I am sure you will you go on from strength to strength as times goes on. Thank you for the gift of your music, you truly are an inspirational and gifted artist.

Also, through you and this friendly forum, many of us have managed to make friends with some truly lovely people. So thank you for that also.
Congratulations on the Brit! Rock on!

Look forward to seeing you gig again.

lots of love,

Miss D
Dear KT,

Hey, I'm Catch-22. But outside of your forum I'm known as Derek Byrne. I'm 24, live in Dublin, Ireland and I'm currently finishing off my degree in Media Production Management and work freelance in radio….which is where I want to find a career.

I joined the forum on 21st of January, in it's first week…which leaves me as one of your 'older' online fans! I'm also now one of the moderators on your forum to give Paddy a hand.

I first saw you on that Jools Holland show and was given a copy of your CD by a friend just after Christmas 2005. Needless to say I fell in love with your fantastic voice and talent and soon became your biggest spokesperson in Dublin!! In February 2005 you played your first Irish gig in the packed out Sugar Club. At the end of which you sat down with the crowd and had a drink and even signed my friend's birthday card! I also had the pleasure to meet you in Tower Records that day where you signed a few posters. And when I asked you to sign them to Catch-22 you replied "Oh, the guy from the forum"! Which made my day!

I just want to say that even a year on your album still brings a smile to my face and the memories of your fantastic live performances over here are still the talk of me and my friends!

Looking forward to your next release and your return to Dublin!

Regards,

Catch (Derek)

PS Fantastic stuff at the Brits!!!

PSS As you already know, you have the NICEST fans….meeting some of them through your music has been brilliant!
KT,

You are a No 1 superstar! Keep on rockin girl! Have loved your music since I heard Jo Whiley first play OSOTW maaaaaaaany moons ago and have been hooked ever since
Here's to many more albums and show stopping performances. Keep your head in the clouds but your feet on the ground
ROCK ON THE TUNSTALL!!!

Daffers x x
To KT,

This is a wee bit embarrassing but here goes. Since your amazing performance on Jooles Holland i have been hooked ever since! I went out and found the album and lots and lots of stuff you've done and i really respect you as an artist and a songwriter. But my main reason for writing this is to say you have really helped me through alot of hard times in the past year or so and you've inspired me to such an extent that i really want a career in music. I always used to watch Jooles when i was just getting into drums and other instruments ( played the drums for about 2 months by the time i saw you).

I was blown away.

For some reason my whole yearning to become a musician sky rocketed. I even picked up my guitar again and belted out a few of your tunes. As my tastes widened and when you weren't that well known, i loved that you were kind of a secret from other people who i knew ( of course i informed them who you were) , music become a solid part of my life.

I caught the bug basically.

Music and your music majorly helped me though a VERY rough time in my life, once a time when i questioned it, but through easy listening it gave me a bit of hope and now i'm having the time of my life and things are looking chirpy. I should be doing a music degree in Manchester nexy year and from then on.. who knows!

Again, it's rather embarassing , but , i just felt that i needed you to know. As , i'm sure , for so many fans, they'll never get a chance to tell you really ( im not sure i'd tell you to your face) but you and your music have had a lifechanging effect on me and my music.


So thank you for eveything.

I really apreciate it.

P.S . I got a ' wee bastard pedal, figured my own set up for it... SO much fun!.... but you're right.. it can be a bit of a bastard.

xx (Dan.J)
"Katie,

You've changed my life.

I joined your forum the best part of a year ago and my life has never been the same since. I've made some fantastically great friends, I've loved and I've lost and I've had some of the best, if not THE best, days and nights of my life thanks to the people of the forum, times I wouldn't trade anything in the world for.

And that's all because of you and your music.

I've been to more of your gigs than I would really care to admit and have the honour of meeting you a few times and they really have all been magical moments. In case noone has said it before then I really must say that the way you treat your fans is second to none. The time and affection you show to us all by putting up with us backstage, posing for photos in the street and letting us crash family occasions at New Years really does mean more to us than you could possibly imagine and in return, I hope you feel the same affection back from us all.

This message was whole lot longer and quite frankly, Katie, I could yap about you and the experiences and good times I've had thanks to you for forever and a day but I'm sure you have a shitload of reading to do so I'll leave it at this....!

Thank you ever so much for chasing your dreams.

Pete

acepete@yahoo.co.uk"

Cheers, doll.

P x
KT,

Cheers for such a fantastic album, tis rather fab! I adore your music and I don't anyone deserved the mercury nomination or that brit award more than you, huge pat on the back!
Cheers for inspiring me to take up guitar properly as well! It's great to have something to witter on about to my friends and irritate them with (they love you really...!)
Thanks for being such an inspiration, for making me get out of bed in the mornings (darn GMTV starts to early dammit
) and for being generally brilliant!

Keep up that genius, y'hear lassie?!?!

Huge hugs, you rule!

Love Matilda/ Tillykins/ StarryTwiglet

xxx

PS If you find loo rolls are too small for your Brit award toilet roll holder, do consider commisioning a bigger loo roll especially... I'm thing a horse and cherry tree print could really work...
PPS Please ask Selfridges to make your boots cheaper, I can't afford them...
"KT, i first discovered you when i saw that now famous Jools Holland performance and knew i was witnessing something truly special,
you deserve all the success & trappings that come with it, our ears & hearts are better now that you're around.
I send you my continuing love & support, Craig aka Fish"
Hey KT!

Jus a quick note to say thanks. you've inspired me so much over the last year, a time when i needed inspiring the most. I had a pretty bad year and your music just totally lifted me up. I got your guitar plectrum and set list after your gig in Belfast in october last yr and it has to be my favourite ever posession! Thanks for a great album, a great year of music and I cant wait to see you again this year!!!!

love from lynz (lil4589 from the forum)
Hey KT, Just want to let you know that there's another supporter among the millions. I am a recent addition to your fans list, and I must say that as a listener your music makes me happy, and as an aspiring musician, you are very inspiring. Thanks for all the blessings of your music, and may you continue to be blessed. (Hannus)
Emma (Plek Trum)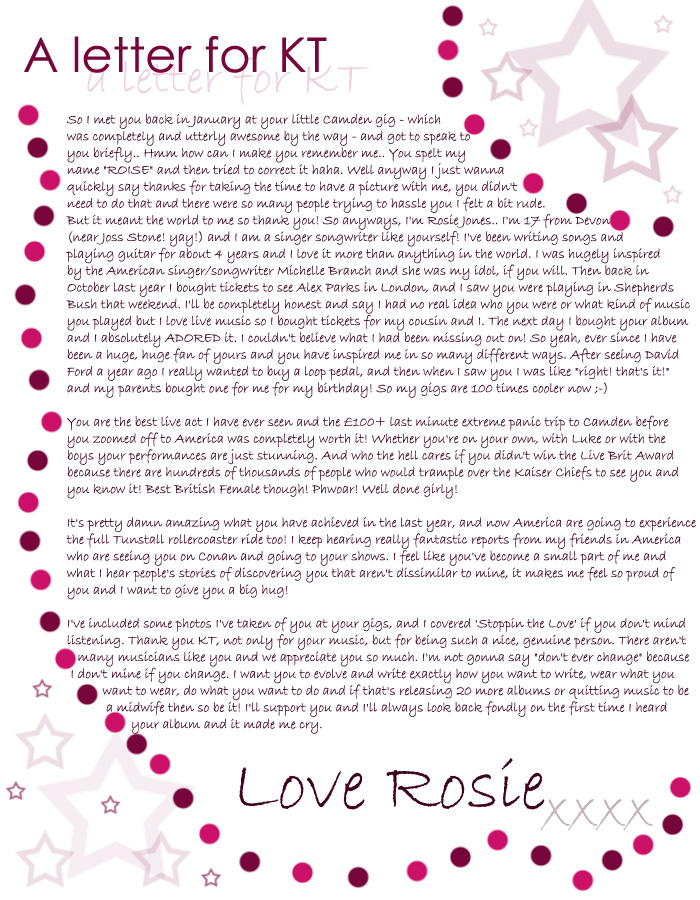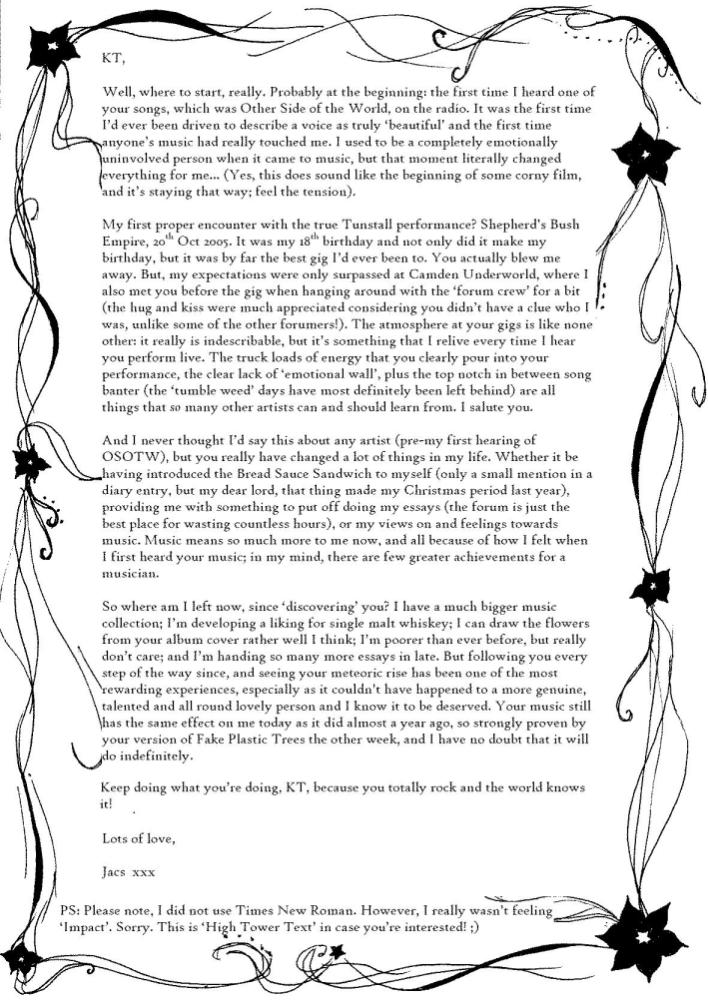 Jacs (Jacsgud)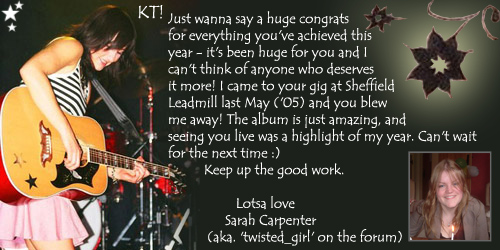 twisted_girl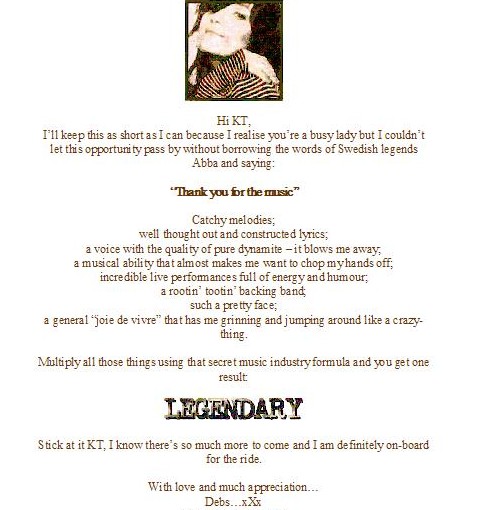 (PurpleCrumpet)